Eric Chahi
He started programming in 1983 to create video games for Oric 1 computer, and later on Amstrad CPC. He then confirmed his talents as an artist on platforms such as Atari and Amiga. In 1989 in collaboration with Paul Cuisset at Delphine Software he works on the graphics and animation for Future Wars, his first internationally acclaimed title.
Eric then developed Another world (released in 1991) almost entirely on his own, from programming to the box cover ; later it received much critical acclaim for its atmosphere and minimalism.
In 1992 he works with Amazing Studio team on the game Heart of Darkness. Being in development for six years, this cinematographic platform game has been published in 1998 and met a huge success.
Eric disappeared from the game industry for some years, preferring volcanos, but regained interest in making games. He worked three years with Ubisoft on the innovative title From Dust released in summer 2011, on Xbox360, PC and PS3. And in 2014 his passion for volcanoes push him to ignite this new exciting project.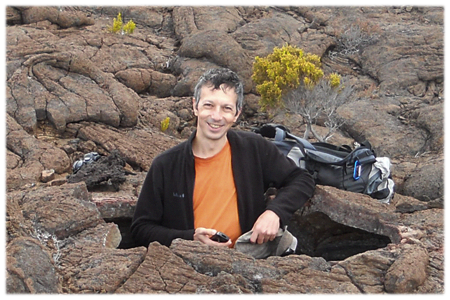 Eric Chahi, in a small lava tube on Reunion island
François Sahy
Starts programming on MS-DOS in Basic at the age of 12, studied computer sciences in EPFL (Switzerland), piano at the Lausanne Conservatory of Music and then computer graphics in Objectif 3D school (France).
Writes in 2001 the user interface of the sainet erp (C++/Vcl).
He is the co-author of the Visualis Physics educational softwares, used in several schools and universities. This suite includes Visualis Electromagnetism (2003) for 3D visualization of electromagnetic fields, and Visualis Dynamics (2006) for the study of forces and gravitation.
Fond of video games, he writes several 3D game engines, including the one used for this project, based on new OpenGL 4.5 compute shaders.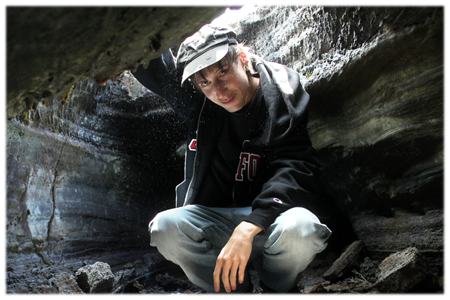 François Sahy, inside the lava tube