Reunion volcano museum
The simulator has been dedicated first for the « Cité du volcan » museum of the « Piton de la Fournaise » volcano on Reunion island, near Madagascar. It is one of the most active volcanoes on earth. This vibrant place has been a fantastic setup to build our first application.
1. Volcano « sandbox »
Create eruptions and watch them evolve. Lapilli cone, hornito, cracks can be drop anywhere on the field. Everything is dynamic. The dynamic terrain and fluid simulation allow to divert the lava flows, dig the field...
2. Compare eruptions
Change eruptive parameters such as flow rate, pressure, tilt, cycle or temperature. After a few minutes, you will see lava flows and volcanic structures appear.
3. Fill the Dolomieu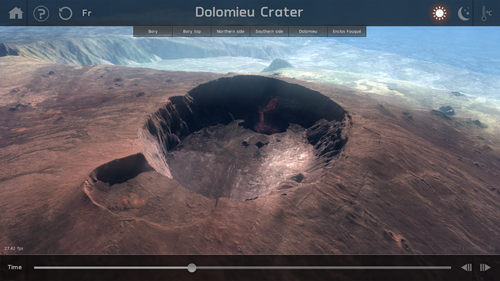 2007, the Dolomieu crater collapses under its own weight. Go through hundreds of eruptions in fast motion to fill in again the crater's 90 millions cubic meters.
4. Managing risk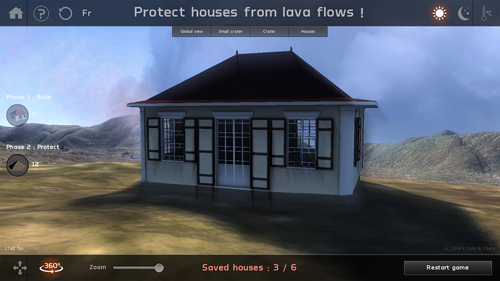 Choose wisely where to build houses to minimize the risks in the case of eruption ! Then launch an eruption to see safest places.